Pre-Clinical: Animal Studies
Regenerative Medicine
Pre-clinical animal studies are supported by operators experienced in minimally invasive and surgical procedures to test a range of clinical indications in a variety of small and large animal species. We work with sponsors on animal and disease/injury model selection, ensuring the biological response is similar to humans. We are also able to address the inherent limitations of the animal model, the physiological and anatomical constraints, and the inherent variability of the model.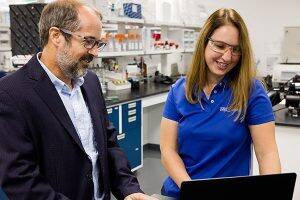 The following examples were selected from completed animal studies to evaluate mechanism of action for novel therapeutic candidates and new devices to support improved routes of delivery for cell and gene therapy products.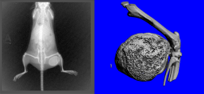 MicroCT images from a rodent hind limb implantation study, designed to assess the osteoinductive potential of a bone filling material with and without pro-osteogenic agents.


Study to evaluate candidate injectable treatments for primary knee OA, in a Dunkin-Hartley guinea pig model. Images shown cover ultrasound guided administration of the injectable to the knee joint, microCT examination of the subchondral bone, MRI imaging for quantitation of proteoglycan in cartilage, and histology to assess cartilage degeneration.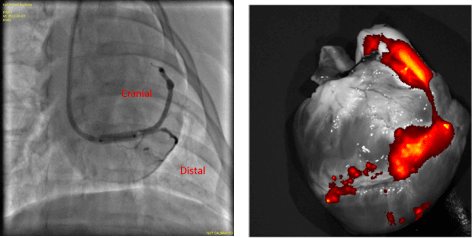 Demonstration of coronary sinus retrograde delivery of fluorescent labelled cells in a porcine heart failure model.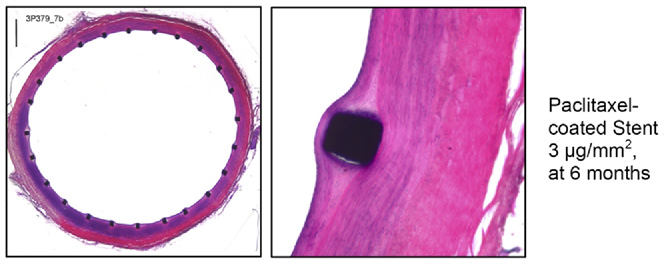 Evaluation of pharmacokinetics of paclitaxel delivered from drug eluting stent to normal porcine peripheral arteries.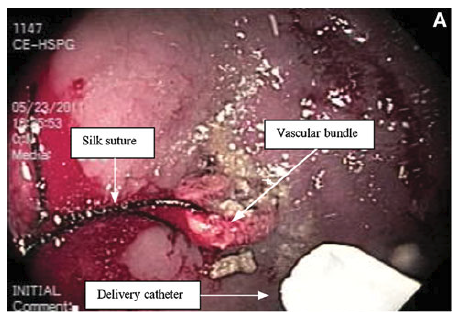 Study to identify local or systemic histopathological effects of a hemostatic powder in a porcine model of active, severe, non-variceal UGI hemorrhage.
Intraprocedural endoscopic images.(A) The looped vascular bundle, silk anchoring suture, and bleeding area are visible and the initial burst of hemostatic power (gray material) has been administered through the delivery catheter. (B) Hemostatic powder treatment has been completed, covering the bleeding vessel and surrounding mucosa
Publications
Rodenberg EJ, Patel DS, Shirley B, Young BW, Taylor AF, Steidinger HR, Fisher SJ, Patel AN. Catheter-based retrograde coronary sinus infusion is a practical delivery technique for introducing biological molecules into the cardiac system. Catheterization and Cardiovascular Interventions, 2019.
Dake MD, Van Alstine WG, Zhou Q, Ragheb AO. Polymer-free paclitaxel-coated Zilver PTX Stents–evaluation of pharmacokinetics and comparative safety in porcine arteries. J Vasc Interv Radiol. 2011 May;22(5):603-10.
Giday S, Van Alstine W, Van Vleet J, Ducharme R, Brandner E, Florea M, Johnston K, Negron-Garcia J, Ringenberger K. Safety analysis of a hemostatic powder in a porcine model of acute severe gastric bleeding. Dig Dis Sci. 2013 Dec;58(12):3422-8.