West Lafayette, Ind. — MED Institute is pleased to announce the opening of its satellite office in the incubator facility of the Global Cardiovascular Innovation Center (GCIC) in Cleveland, Ohio. Adjacent to the Cleveland Clinic, the GCIC is in a 50,000 sq. ft. facility that has development lab and office space, and the center provides extensive business support services to new companies in the cardiovascular field.
The GCIC is a cardiovascular product development consortium supported by a grant from the State of Ohio's Third Frontier Program. Its mission is to be an international leader in developing, incubating, and commercializing cardiovascular technology. Its Product Development Acceleration program provides technology and product development expertise to Ohio companies in order to accelerate their commercialization development and success.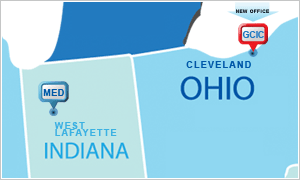 MED intends to have personnel on-site at GCIC part-time initially, to better meet the needs of these innovative companies. MED currently offers the capabilities of prototyping, developing and testing new products. Having a satellite office within the GCIC facility will allow MED to broaden their relationship with Ohio-based companies.