A Contract Research Organization (CRO) is a company that provides clinical trial services for the pharmaceutical, biotechnology, and medical device industries. There are different types of CROs, but typical CRO services in the medical device industry include regulatory affairs, clinical trial planning, site selection and initiation, recruitment support, clinical monitoring, data management, trial logistics, biostatistics, medical writing, and project management.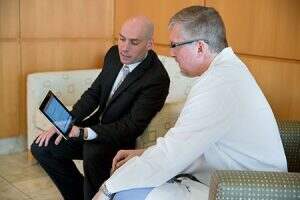 What does a CRO do?
CROs are hired by sponsors who want to run a clinical trial. This eliminates the need to hire full time staff to complete the project and provides an opportunity to work with the CRO on a project-by-project basis. The CRO is hired to plan, coordinate, execute, and manage the lifecycle of the clinical trial, safely and efficiently. Serving as the main contact between the sponsor and other stakeholders throughout the trial, the CRO communicates with ethics and compliance committees, regulatory personnel, vendors, physicians, and research coordinators.
What does a CRO mean in clinical trials?
CROs have the knowledge, capabilities, processes and procedures that are needed to develop and run a successful clinical trial, while ensuring trial quality and compliance with national and international standards. Working with a contract research organization can offer innovative tools that can increase efficiencies, leading to decreased timelines and cost. Choosing the right CRO to run your clinical trial is crucial to the trial success. In addition to consideration of their own project needs, requirements, and budget when selecting a CRO, Sponsors should evaluate the qualification, experience, and quality system processes of the CRO.
Our CRO services
MED Institute is a full service contract research organization with over 35 years of experience designing and executing clinical trials, ranging from early feasibility studies to multinational, controlled pivotal trials to post-market registries. Our clinical trial services include clinical trial planning, clinical data management, clinical project management, and clinical trial monitoring.  Our MED team is able to support your clinical study from start to finish or is able to help with one specific aspect of the clinical study (e.g., monitoring).
Clinical trial planning and study start-up include the process of creating the clinical plan and clinical protocol and obtaining the necessary approvals from regulatory authorities and ethics committees. We can help you design a clinical study tailored to your product's specific needs, to collect data efficiently while meeting all regulatory requirements. Our protocol development process involves working in collaboration with clinical experts and other study stakeholders to identify reasonable performance goals, to determine appropriate examinations and procedures, and to define the right patient population. It ensures the clinical study protocol will successfully implement the study plan and maintain compliance with all applicable regulatory requirements. A well-written protocol is essential to maximizing efficiency and minimizing risks in gathering the necessary clinical data for your product.
Clinical data management is critical to the clinical trial process. We are dedicated to providing high quality clinical data management services to support your product development needs, obtaining clinical trial data you can trust to save time and resources. We can create case report forms (CRFs) that ask the right questions to achieve your clinical trial's goals in a simple and intuitive way. These CRFs are customized to suit the project type and individual requirements for streamlined data entry, avoiding the unnecessary delays and potentially inaccurate data that often result from poorly designed CRFs.  We can generate paper or electronic CRFs based on the clinical trial and Sponsor requirements.
Drawing from our experiences working with hundreds of investigators worldwide, we are able to build efficient, intuitive electronic data capture (EDC) systems that are simple for investigators to learn and use. The benefits of a well-designed, well-built EDC system contribute to minimizing the time and cost to run a clinical trial. Learn more about designing and building an EDC system in our "Considerations for designing and building an electronic data capture (EDC) system" blog series- Part 1: with users in mind and Part 2: with sponsors/CRO in mind.
Clinical project management is important to ensure that your trial runs as smoothly as possible. Our clinical project management team has decades of experience managing trials ranging from first-in-human proof of concept to multinational, multicenter, controlled pivotal trials. We emphasize efficiency in conducting clinical trials, while maintaining exemplary quality and compliance. Our team can complete clinical site assessments, help you prepare documentation for IRB/Ethics Committees, complete the site initiation and training, and complete the necessary steps for trial closeout. Our experience with a multitude of trial sites around the world has taught us how to evaluate potential sites, and the right questions to ask to determine the best fit for each clinical trial. We also strive to see that candidate sites learn enough about the requirements of the clinical trial to determine whether it is a good fit for them. Smart site selection contributes greatly to completing a clinical trial on time and on budget.
Clinical trial monitoring helps ensure that the trial is conducted, recorded, and reported in accordance to the protocol, ethics committees, and Good Clinical Practice (GCP).
We create comprehensive, but efficient, monitoring plans to manage clinical trials and engender confidence in clinical trial integrity. Analytics are used to implement a risk-based approach to monitoring, which reduces costs without sacrificing assurance of data reliability, investigator compliance, or meeting regulatory reporting obligations. Active clinical monitoring can help predict potential clinical trial challenges or at least identify issues early so they may be addressed before they lead to significant delays leading to increased costs, or derail the trial completely.
How to choose a good contract research organization
Choosing a good CRO is very important and contributes to the success of the study and helps the trial to run as smoothly as possible. Some of the questions to ask when choosing a CRO are:
Do they have an established quality system, with procedures to address the assigned clinical study activities?
Are they responsive and willing to work with you and communicate throughout the project?
Do they have stable project teams is there high turnover?
Can they assist with data management?
Will they help you recruit and manage safety boards or committees?
Will they be able to conduct audits to help you prepare to pass BIMO FDA inspections?
Can they provide general site support and project management help in addition to clinical monitoring?
Conclusion
CROs are hired by Sponsors who want to run a clinical trial and become a fundamental part of the trial. They offer a wide variety of services associated with conducting the study from start to finish. It is important to choose a good CRO as the success of your trial is dependent on the management and capabilities of the CRO.
We can partner with you to successfully take your clinical trial from start-up to trial close out. Contact us today to discuss your clinical trial needs 855.463.1633 | askmed@medinstitute.com | medinstitute.com.