Electronic Clinical Outcome Assessment (eCOA) is a method of capturing outcomes data electronically in clinical trials. eCOA employs technologies such as handheld devices, tablets, or the web to allow trial participants, physicians, and caregivers to directly report information related to healthcare outcomes. For example, trial participants or their caregivers may complete diaries or collect certain medical outcome information at home as a way to make participation more convenient. However, it can also improve the accuracy and integrity of endpoint data. Many trials still use paper-based methods to collect clinical outcomes data, and there are circumstances when it may be more appropriate to use paper forms rather than electronic methods (e.g., early phase studies with few participants). However, several types of clinical outcomes data can be collected more efficiently and at lower cost with electronic methodologies (e.g., Quality of Life questionnaires or pain score scales can be completed at home rather than conducted by hospital staff during visits to the site).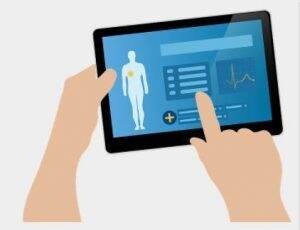 There are several benefits of using eCOA tools over paper forms. eCOA tools can improve reliability of data by using edit checks to minimize missing or out-of-range data and by allowing participants to submit data contemporaneously. From an efficiency perspective, data can be submitted by participants from home and integrated with the trial's electronic data capture (EDC) system to reduce the burden on clinical site coordinators to manually input patient information. A reduced need for site visits can preserve the clinical trial timeline and avoid disruptions in data collection during disruptions like the COVID-19 pandemic. In addition, electronic data collection stamps data with the entry date and time—a very useful feature for audit purposes. While using eCOA may involve up-front costs, this method of data collection also has cost-saving potential later in the trial. For instance, using eCOA rather than paper forms can help save money by reducing the efforts needed for data clarification and the query process, the efforts for data entry, and the overall trial timeline.
In addition to improving data integrity, eCOA tools can help increase participant compliance and retention in a clinical trial. Using eCOA not only eliminates travel time to trial sites, it provides a more comfortable and convenient way to collect data. Whether participants are immobile or not, virtual trials that include eCOA allow participants to participate from their homes. This makes them more willing to participate and thereby provides physician investigators with access to an increased number of trial participants. Electronic or web-based tools that are password protected can also help create a sense of privacy when trial participants enter sensitive information. However, it should be noted that for an eCOA approach to succeed, participants must receive adequate training on the eCOA and its data entry requirements.
Nowadays, more and more clinical trials are designed with the participant experience in mind, which includes participant-friendly approaches to endpoint assessments related to clinical outcomes, made possible by the availability of a number of innovative and modern data collection technologies. The selection of an eCOA tool should be considered early in the clinical trial design process. There are a number of aspects that must be considered when selecting the most appropriate method of data collection, including participant population, data type, data collection site, data collection schedule, and cost. The clinical trial experts at MED Institute can help you find the most suitable approach to eCOA data collection to optimize your clinical trial.
For more information about our services and how we can partner with you, visit medinstitute.com, call us at 855.463.1633, or email us at askmed@medinstitute.com.