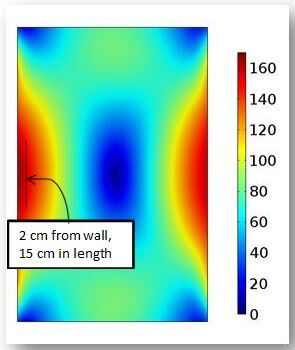 What kinds of MR tests are performed?
Many virtual and physical tests are used to evaluate the MR safety of passive medical devices. These tests look at numerous aspects of the effect that MR scanning has on devices.
Magnetically induced displacement (ASTM F2052)
Testing can determine the amount of magnetically induced displacement force that an MR scanner exerts on devices. Understanding displacement can prevent devices from migrating under scanning.
Magnetically induced torque (ASTM F2213)
Testing can determine the amount of magnetically induced torque that MR scanning can produce in devices. Similar to displacement, torque can disrupt the placement and performance of devices.
Testing can determine whether devices create artifacts in the MR image and quantify how large the artifact might be.
Testing can determine how much RF-induced heating of tissue occurs under specific scanning conditions. Excessive heating could potentially result in injury to the patient.
MR marking of medical devices (ASTM F2503)
Ultimately, testing helps manufacturers mark or label the device appropriately for MR scanning.
MR testing is only one area of testing that MED Institute performs. MED Institute performs over 200 test methods that are accredited to ISO 17025, including:
MRI safety analysis
Durability and fatigue testing
Corrosion testing
Particulate counting and sizing
Radiopacity testing
For more information on how we can partner with you, please contact us 765.463.1633, askmed@medinstitute.com, or at medinstitute.com.