Our Regenerative Medicine team offers comprehensive solutions to the unique and rapidly evolving non-clinical, manufacturing, regulatory, and clinical challenges with cellular, tissue and gene therapy medicines. Our team employs a range of cell and molecular biological assays to enable the development and characterization of ancillary products (e.g., cell culture media) and novel therapeutics (e.g., advanced cell and gene therapies).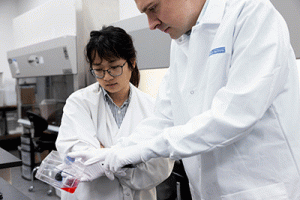 With the ability to leverage deep scientific knowledge, strategic partnerships and collaborations, and extensive clinical development experience with devices and biologics, we bring value added services to help accelerate development of your regenerative medicine products.
Our primary focus is the early stages of product development, helping sponsors move a product from concept to a successful IND submission and then on to early clinical evaluation. Our development services aim to reduce time, cost, complexity, and ultimately risk for sponsors at each project milestone or phase.
REGULATORY AND CLINICAL
Our Regenerative Medicine services support product, process, and method development. We leverage the experience and capabilities of our established service areas, such as regulatory and clinical, to drive our client's development work forward, navigate the regulatory landscape, and meet business objectives.
MANUFACTURING SERVICES
We are able to provide resources, quality system support, equipment and clean room facilities for the manufacture of cell and gene therapy products for non-clinical study and production to support early phase human clinical trials.
MEDICAL DEVICE DEVELOPMENT
In instances where bespoke medical devices are required for the preparation and delivery of advanced cell and gene therapy products, we can draw from our medical device development and manufacturing capabilities to address this need for sponsors.