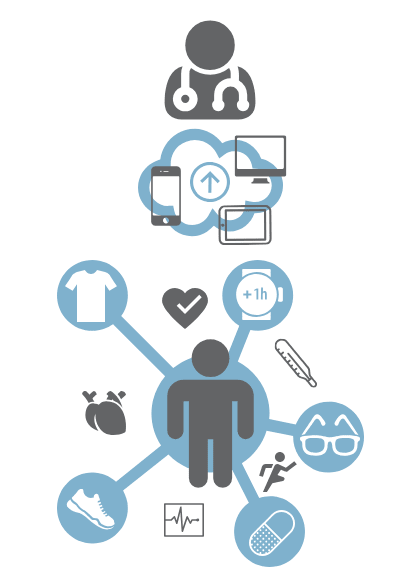 The second, in a blog series about how advances in technology are impacting clinical trials. Read part I, here. 
Increasingly popular wearable technology has the potential to profoundly affect the possibilities for clinical research. Initially, some wearable devices, such as wristbands and smart watches, targeted consumers wanting to track their health and fitness level. Wearables allowed collection of data on a 24/7 basis as people went through daily routine activities. More recently, wearable devices are being designed and developed for use in clinical trials, with a real possibility of transforming the clinical research industry. Wearable devices are currently gaining huge popularity, with many technology companies developing wearables for entry into the clinical research space. These devices offer a vital opportunity to collect real-time data, to better understand patients' needs, and to improve patients' experience throughout participation in the clinical trial.
The most common use of wearable devices in clinical trials is to collect continuous real-time data from the participants. These devices can measure heart rate, gait, velocity, step count, sleep pattern, blood pressure, temperature and other parameters. Some more sophisticated devices are capable of measuring lung function and generating electrocardiograms. Non-invasive glucose monitoring is currently a target technology, and several companies are developing prototypes.  Some wearable devices can be paired with mobile applications to measure indicators such as tremor, balance, posture, and memory characteristics. This function can be of great importance in clinical trials of certain patient groups, such as those with Parkinson's disease. The contemporaneous nature of data recording and the opportunity for more frequent measurement could reveal patterns for physiological changes, which would help determine the effect of a participant's activity level on drug/device success.
Wearable devices may also make possible the remote monitoring of participants for adverse events (AE), which would certainly improve compliance with AE reporting. Wearables can continuously monitor participants' vital signs, social interactions, sleep patterns, motor activity, and other markers of health. These physiological and behavioral changes that may indicate adverse events could provide robust, timely, and unbiased data for monitoring a participant's status in a clinical trial. Wearable technology may be deployed within a wireless body area network (WBAN). WBAN devices can be implanted inside the body or attached to the exterior of the body. These devices include a number of wirelessly connected physiological sensors to help gather required data for a trial to monitor participant's safety.
The possibilities of collecting real-time, highly objective time-marked data are exciting.  The future of wearable devices will not be limited to wristbands and smart watches.  Smart fabrics, ingestible sensors, and even smart lenses will be available soon for use in clinical trials. The use of these wearables will help to reduce the overall costs of running a trial by reducing the number of patient visits to the clinic and may improve participant compliance and retention.
A word of caution: despite the expected benefits of using wearable technology in clinical trials, the regulatory status with the FDA is not yet entirely clear. In addition, there will be a need for the data collected through these devices to be adequately validated for use. Evolving acceptance by regulators will help drive implementation of wearable technology in clinical research.
We would love to hear from you! What are your thoughts on wearable technology in the clinical research industry? Contact us today 855.463.1633 | 765.463.1633 | askmed@medinstitute.com | medinstitute.com