The medical device industry has long understood the requirements related to process and software validation, however, US FDA Title 21 Code of Federal Regulations Part 820 Quality System Regulations does not have explicit requirements related to test method validation. Despite the lack of requirements, the FDA does have expectations around test method validation and has issued 483s and warning letters for insufficient method validation activities. Test methods that have not been validated yield a risk of the method being inadequate for evaluating medical devices and can lead to failed clinical devices, market recall and patient harm. Thus, to satisfy FDA expectations and avoid the pitfalls of using an inadequate test method, test methods used to produce data in support of regulatory filings or the manufacture of medical devices for human use need to be validated.
Validation
21 CFR 820.3 states: Validation means confirmation by examination and provision of objective evidence that the particular requirements for a specific intended use can be consistently fulfilled. Method validation is a documented process that is used to confirm that the procedure to be employed for a specific test is suitable for its intended purpose.  Test method validation gives an overall understanding of uncertainty of the method. A validated method provides confidence that the method is appropriate and that the data generated are reliable and repeatable.
Incorporate Risk
When establishing test method validation activities, first consider the purpose and risk associated with the test. ISO 17025 states: The validation shall be as extensive as is necessary to meet the needs of the given application or field of application. The extent of validation activities required for a given method is driven by its intended purpose and closely related to the risk of patient harm. For example, a test for conformity of appearance may not require the same level of validation activities as a durability test replicating the clinical usage of the device.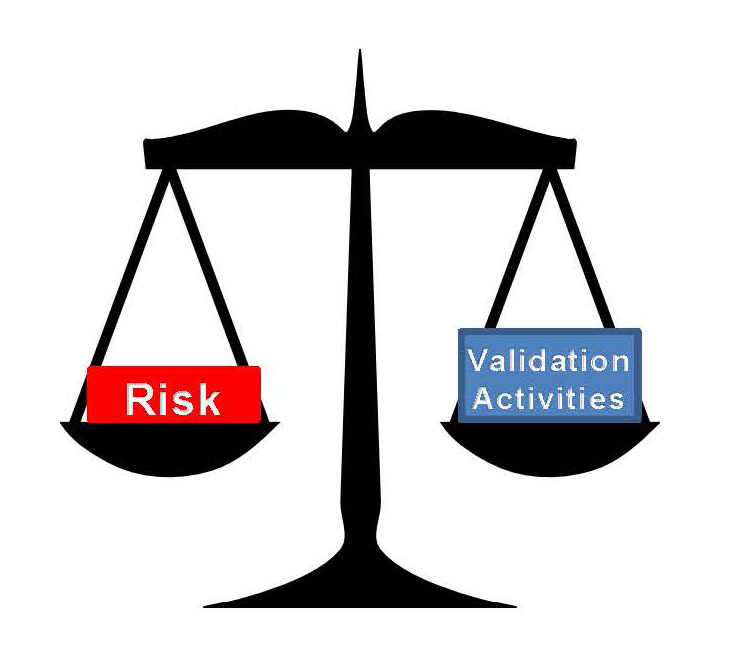 The level of validation should be commensurate with the risk associated with the test method being wrong.
Test method developers should determine the risk associated with the test method by evaluating the severity of potential harm and the probability that the harm occurs. With the purpose of the method and the associated risk assessed, the validation activities and level of rigor needed may be planned.
As an example, consider a test method to measure the length of medical device that is 100 cm +/- 1 cm long. The severity and probability associated with the device length being incorrect is low. Thus when planning the test method validation activities associated with a metal ruler, uncertainty determination including accuracy, resolution and repeatability is needed. However determination of the uncertainty related to the thermal expansion of a metal ruler isn't likely warranted.
A deeper look at validation activities including uncertainty determination will be covered in future blog posts. For more information, please contact us today to learn more about our medical device engineering services 855.463.1633 | askmed@medinstitute.com | medinstitute.com.