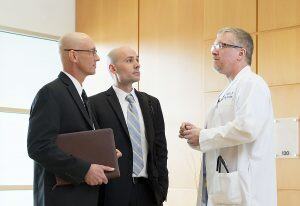 We are pleased to announce that we are adding Clinical Trial Services to our Engineering and Regulatory service offerings.  We have well over 25 years' experience conducting clinical studies and we are accredited to ISO 14155.  At this time, we are considering concentrating our efforts on smaller scale clinical pilot or feasibility studies, which would be in keeping with our verification and validation testing and development efforts for early stage, novel medical devices.  Our hope is that we are able to help a broad range of clients seeking to help patients and physicians bring new medical products and therapies to the marketplace.
We recognize that when developing a novel medical device, there are frequently times when only human clinical data will suffice to establish proof of concept, or inform improvement of device design.  Early clinical data may be needed to support regulatory submissions, create publications, or simply to advance knowledge of diseases and associated treatments.  We can help with design and conduct of early feasibility clinical trials to meet these needs.  Our ability to conduct early feasibility clinical trials will closely complement our current service offerings of device design and development, and non-clinical verification and validation testing. Our intimate knowledge of your device will enable us to design clinical trials crafted to answer the most pertinent questions.
Our expert clinical personnel backed by our regulatory team can help you and your team design and conduct efficient, successful clinical trials that will meet regulatory requirements. Services include the following, as needed:
Document preparation for Institutional Review Board submission
Document preparation for regulatory applications (e.g., IDEs or CTAs)
Clinical trial protocol development
Clinical trial imaging consulting
Clinical trial site assessment
Clinical trial site training and support
Case report form/database creation, implementation, and management
Clinical trial reporting and final data output
Exceptional customer service
The Clinical team at MED Institute can help you decide when clinical data may be necessary, how to collect the data most efficiently, and can apply significant experience to executing your trials. Contact us today 855.643.1633 | askmed@medinstitute.com | medinstitute.com.