Our regenerative medicine non-clinical services cover planning and execution of in-vitro biological testing and in-vivo testing. We work with sponsors to focus preclinical studies on establishing and reinforcing a therapy's putative mechanism of action, evidence of efficacy, proof of concept, and safety. Our aim is to help build a preclinical data package to prepare the therapy for human clinical study, and confidence that the therapeutic effect is superior to the current standard of care.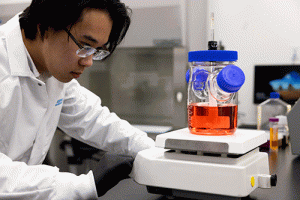 BIOLOGICAL TESTING
We offer comprehensive services that are designed to address sponsor non-clinical needs from product characterization to non-clinical safety testing and elucidation of probable mechanism of action. Biological testing capabilities encompass a range of cell and molecular biological assays that help enable the development and characterization of ancillary products and novel therapeutics.  We work with researchers and manufacturers to evaluate and select therapy-enabling technologies they can depend on from early stage discovery through non-clinical development and commercial application.
Services include:
Process improvement
Concept development and proof-of-concept
Protein characterization
Bioassay development (e.g., potency, purity, identity)
The following examples were selected from completed studies (published and unpublished data) and illustrate our range of biological testing capabilities.
Study to assess the ability of MSCs to differentiate and synthesize cartilage matrix. Histological sections were stained with Alcian blue and Sirus red to assess hyaline cartilage-like tissue in pellets.
Project to compare MSCs grown in different media supplements and the effect on their ability to immunomodulate activated PBMCs.
Study to demonstrate the unique and reproducible features of T-cells grown with different media supplements.
Publications
Canestrari E, Steidinger HR, McSwain B, Charlebois SJ, Dann CT. Human Platelet Lysate Media Supplement Supports Lentiviral Transduction and Expansion of Human T Lymphocytes While Maintaining Memory Phenotype. Journal of Immunology Research, 2019.
Thompson S, Klarer A, Smith D, Charlebois S, Steidinger H, Taylor A. Improving the quality cell yield of T-cell immunotherapies through selective pressures imparted by culture media supplements. Cell & Gene Therapy Insights 2020; 6(2), 287–294.
Charlebois SJ, Canestrari E, Harris S. Characterization of a pathogen reduced human platelet lysate. Cytotherapy, Volume 20, Issue 5, Page S61, May 2018.
Canestrari E, Charlebois SJ, Harris S. Human platelet lysate as a media supplement for ex vivo expansion of immune cells. Cytotherapy, Volume 20, Issue 5, Page S61, May 2018.
Charlebois SJ, Ramachandran N, Hiles MC, McRoy W, Poderycki M, Steidinger H, Kuske J. Design verification and enhanced risk mitigation tests for cytocompatibility evaluation of cell delivery devices. Cytotherapy, Volume 16, Issue 4, Page S48, April 2014.